Making
Communication
easier with Audiri.

Feeling overwhelmed with chaotic communication and inefficient processes? Fed up with using multiple platforms without making progress? With Audiri, you can deliver secure and intuitive comms that connect you effortlessly with your school community. Built with the latest technology and tailored to your school's needs, Audiri is everything a school-parent app should be.
Important Information. Delivered 
Buses running late? Last-minute timetable change? Sports cancelled? The Audiri communication app empowers staff to communicate instantly, from anywhere. Use our Groups functionality to publish updates just to the parents affected, at the touch of a button!
Increased Event Attendance with RSVP
Schedule parent-teacher interviews. Sell fundraiser tickets. Work out how many snags you need to buy for that sausage sizzle. Manage events effortlessly with Audiri's events module, the perfect place for your community to engage and attend any event you can dream of.
Goodbye Paper. Hello Productivity
Gain control and streamline your communication with integrated digital forms. Capture signatures, orders, payments, and responses through one central platform—you'll save hours on admin work each week while reducing costs and increasing sustainability.
Fewer Parent Enquiries 
Think of all the administration time you will free up without having to answer those every day questions from parents. With Audiri, parents know what, when, why and how the school operates, and your team can get back to doing what you do best—running a school! 
Control the Message 
Don't rely on the parent grapevine, cluttered email inboxes, or social network algorithms to deliver important updates. Audiri gives you complete control over your audience and who can post messages ensuring that your message reaches people on time.
Personalised Branded School Profile
Create a unique and professional profile for your school with custom layouts and links to your Learning Management System or Student Information System. Make instant updates as often as you like.
GeoSnapshot Integration
Quickly and securely share student photos with the help of AI and facial recognition technology for efficient filtering.
Categorise Documents, Photos & Videos
Create and edit custom categories to easily upload and share documents, PDFs, files, images and videos.
Post from the App
Enable your staff to access your school's profile from anywhere, and share photos and updates from the classroom or sports events with ease.
InApp Chat and Group Messaging
Centralise communication and eliminate the need for teachers to send traditional emails.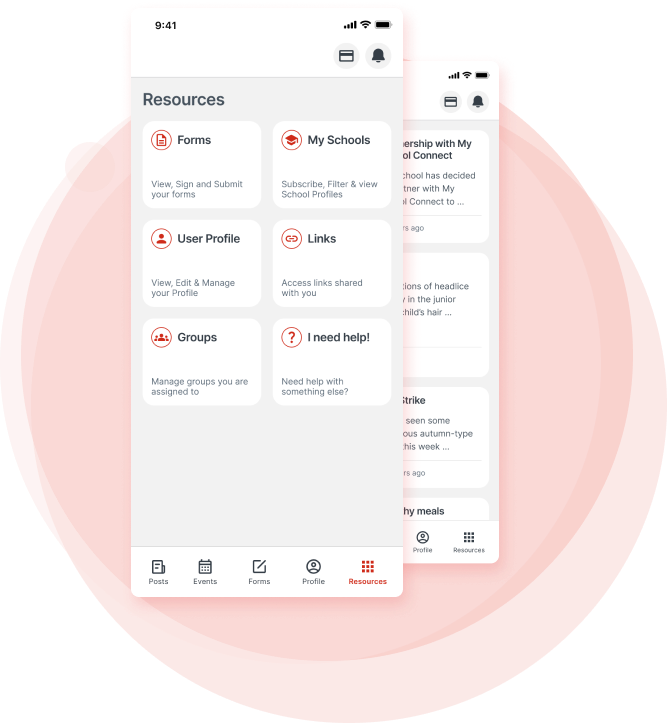 Target Notices for Groups & Group Managers
Target messages to Private, Public or closed subscription groups. Empower parents to post as Group Managers.
Print, View & Export Submissions
Perform multiple actions quickly and save time.
Mobile Payments
Accept secure mobile payments without storing credit card information via My SchoolConnect integration
Mobile Forms
Capture digital signatures with customisable forms, and receive permission slips and absentee notifications in just a few taps. Create online forms for any occasion.
Events & Calendar Integration
Integrate your school calendar and add events to keep your community up-to-date.
Event Management
Eliminate the hassle of manual RSVPs. Take the guesswork out of planning to easily manage your on-campus events.
Parent Teacher Interview Scheduler
Manage bookings for Parent Teacher Interviews. Save time by quickly and easily scheduling interviews, reduce stress by streamlining the process and ensure accuracy by tracking all bookings.
Partnerships & Integration
Through collaboration with other school software providers, we can offer innovative and exciting solutions to integrate their software with our platform for a seamless experience.
Privacy Controls
Choose to stay public, restrict access to sensitive information or make your profile completely private.
Connect. Collaborate. Be Heard.